Michael Freedman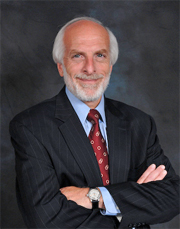 Michael Freedman
Professorial Lecturer
---
Contact:
805 21st Street, NW
Washington DC 20052
In a distinguished career spanning more than 30 years, Michael Freedman has served as general manager of CBS Radio Network News, managing editor for the Broadcast Division of United Press International, leadership press secretary to the Majority Whip of the U.S. House of Representatives, vice president of Communications for The George Washington University, GW professor of Media and Public Affairs and executive director of the university's Global Media Institute.
The GW Global Media Institute explores the evolving roles and responsibilities of the media in our society. The institute produces the highly acclaimed public television series "The Kalb Report" and the weekly network radio/online programs "This Just In!" (the story of journalism), and "GW Presents American Jazz." The institute is also home to the POLITICO George Washington University Battleground Poll, a highly respected public opinion survey.
Over the course of his career, Freedman has collaborated on programming with such icons as Walter Cronkite, Marvin Kalb, Tony Bennett, Ernie Harwell, Robert Trout, Richard C. Hottelet, Dan Rather, Charles Osgood and Abba Eban. During his tenure at GW, Freedman has also forged groundbreaking partnerships with CNN, The National Press Club, POLITICO and The Newseum in Washington, D.C.
He is the recipient of more than 85 honors, including 14 Edward R. Murrow awards for excellence in broadcast journalism. In 2009 the Global Media Institute earned a Gold World Medal in the New York Festivals International Radio Awards competition for its centennial tribute to Edward R. Murrow, which was moderated and produced by Freedman. In 2003, he was honored with the RTNDA Peter Hackes Memorial Award for career contributions to broadcast journalism in Washington, D.C. Most recently, he received the 2011 GW School of Media and Public Affairs Faculty Excellence Award, voted annually by students in the program.
Freedman is co-author of "The Broadcast Voice Handbook" and a contributing author to "Broadcasting Through Crisis," "Responsible Journalism" and "The Encyclopedia of Journalism." He is a member of The Newseum Educator Advisory Team and serves on the boards of The Duke Ellington School of the Arts, the RTDNA Washington, D.C. Area Chapter, and The Radio History Society.
He holds a bachelor's degree in Speech Communication from Wayne State University in Detroit. He and his wife Renee have two sons and live in Old Town Alexandria, Virginia.  
---
The history of media and journalism in the United States. Special interest areas include the history of radio broadcasting, CBS News, American popular music, and baseball.
Encyclopedia of Journalism, Contributing Author
The Broadcast Voice Handbook, Co-Author
Broadcasting Through Crisis, Contributing Author
Responsible Journalism, Contributing Author
Wayne State University, Bachelor of Arts in Speech.