Events
The School of Media and Public Affairs is a convener, bringing together government leaders, distinguished journalists, leading academics and more to campus — from down the street at the White House and Capitol and around the world.
Our events provide a high-profile platform for thoughtful and balanced conversations that deliver unique insights and help chart a path forward for the issues our world faces, from the future of news to advancing civil discourse and healing partisan divides.
---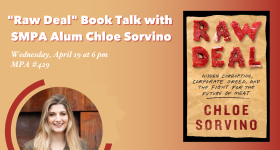 M.A. Graduation Lunch Reception
Thursday, 5/18/2023, 12:00pm - 1:00pm
SMPA invites graduating students in the master's in Media and Strategic Communications program and their families to a brunch reception on May 18 at 12 PM.