How Love Won
Behind the Landmark Marriage Equality Decision
Mon, 13 February, 2017
1:15pm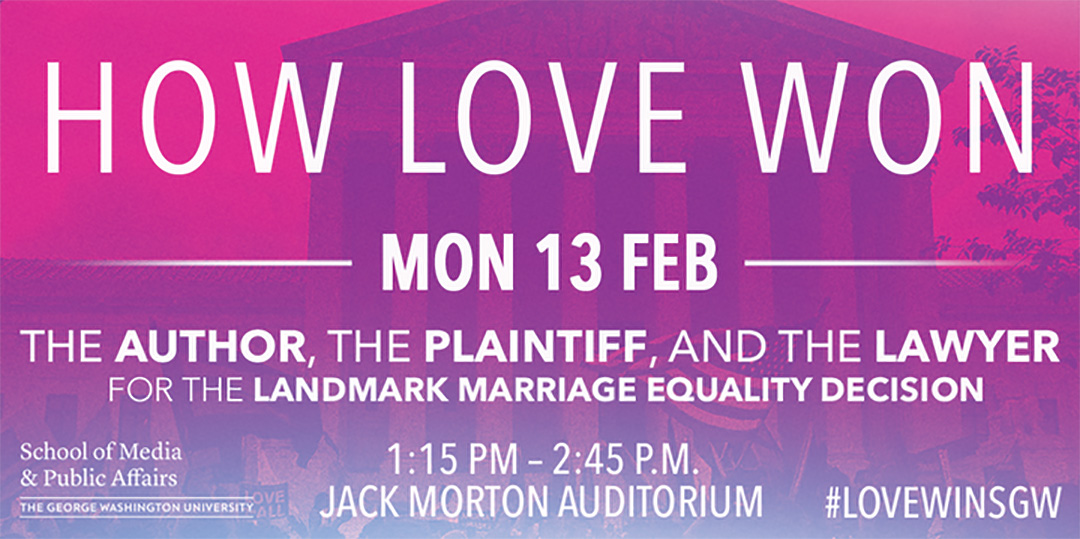 The author, the plaintiff, and the lawyer for the landmark Supreme Court marriage equality case Obergefell v. Hodges reunite at the George Washington University on Monday, February 13.
Pulitzer Prize-winning Washington Post journalist and co-author of Love Wins Debbie Cenziper will join named plaintiff and co-author Jim Obergefell and Douglas Hallward-Driemeier, one of the two lawyers who argued the case before the Supreme Court, for a behind the scenes look at the most important civil rights victory in decades.
In June 2015, the Supreme Court legalized same-sex marriage in all 50 states. GW School of Media and Public Affairs assistant professor Debbie Cenziper and co-author Jim Obergefell tell that story of law, grief and love in Love Wins: the Lovers and Lawyers Who Fought the Landmark Case for Marriage Equality.
SPEAKERS
Debbie Cenziper, Assistant Professor of Media and Public Affairs, The George Washington University; Co-author, Love Wins: The Lovers and Lawyers Who Fought the Landmark Case for Marriage Equality
Douglas Hallward-Driemeier, Partner, Ropes & Gray LLP
Jim Obergefell, Named Plaintiff, Obergefell v. Hodges; Co-author, Love Wins: The Lovers and Lawyers Who Fought the Landmark Case for Marriage Equality
Steven Roberts, Shapiro Professor of Media and Public Affairs, The George Washington University (moderator)
---