Kimberly Gross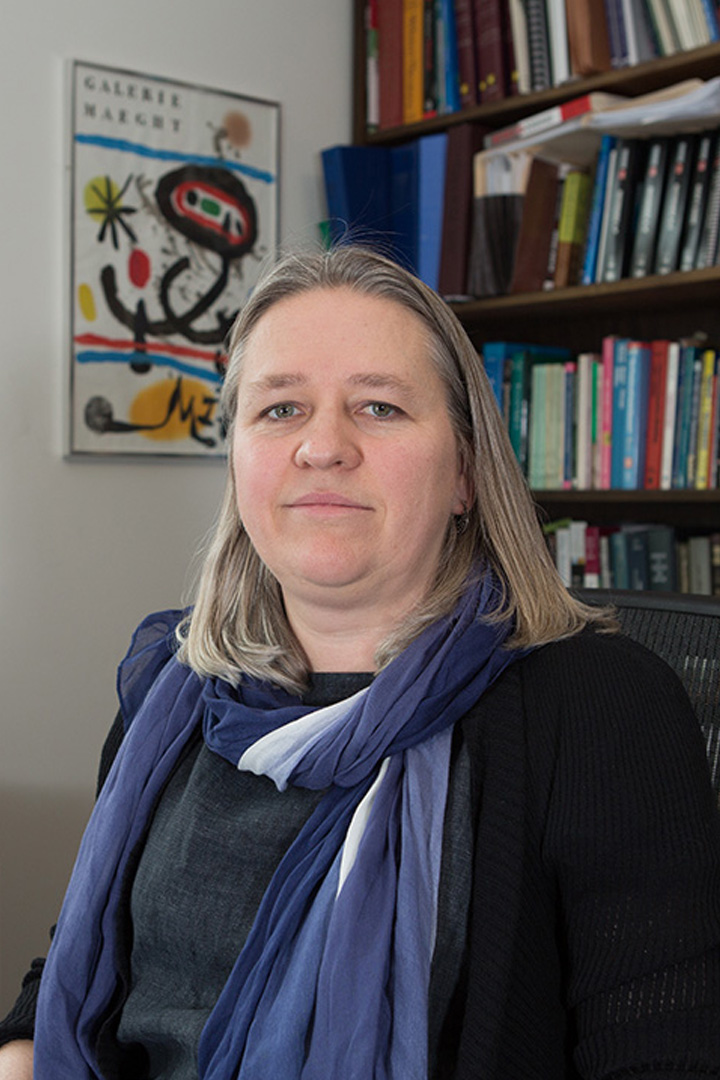 Kimberly Gross
Columbian College of Arts and Sciences Vice Dean for Programs & Operations, Associate Professor of Media and Public Affairs
---
Contact:
Office Phone:
(202) 994-0387
Media and Public Affairs Building
805 21st Street, NW, MPA 426
Washington DC 20052
Kimberly Gross focuses on media framing and public opinion and has appeared in the Journal of Communication, Journal of Politics, The American Journal of Political Science, The International Journal of Press Politics, The British Journal of Political Science and Political Psychology.
Recent work by Dr. Gross includes an examination of racial appeals in the 2012 presidential election funded by a grant from the Open Society Foundation with Robert Entman, Andrew Rojecki and Carole Bell; an examination of media framing of the health care reform debate; a study of the effects of flag imagery in campaigns with Nathan Kalmoe; and a study of the use of Twitter by legacy news organizations. 
Along with Paul Brewer and Sean Aday, she received National Science Foundation and Russell Sage Foundation grants to examine trust in government in the wake of the September 11th terrorist attacks. In the spring of 2006, Dr. Gross was a fellow at the Joan Shorenstein Center on the Press, Politics and Public Policy at the John F. Kennedy School of Government.
---
Public opinion, race and media, framing effects on opinion and emotion
SMPA 2102 Introduction to Political Communication
SMPA 2120 Public Opinion
SMPA 3460 Race, Media and Politics
SMPA 3461 Campaigns and Elections
SMPA 4199 Senior Seminar
SMPA 2151 & 6241 Research Methods
Journal Articles
"Identifying Media Effects Through Low-Cost Multi-Wave Field Experiments." Kimberly Gross, Ethan Porter and Thomas J. Wood. (2018). Political Communication.
"Stereotypes of Muslims and Support for the War on Terror." John Sides and Kimberly Gross. (2013). Journal of Politics 75:583-598
"Confidence in Government and Emotional Responses to Terrorism after September 11, 2001." Kimberly Gross, Paul R. Brewer, and Sean Aday. (2009). American Politics Research 37: 107-128.
"Framing Persuasive Appeals: Episodic and Thematic Framing, Emotional Response, and Policy Opinion." (2008). Political Psychology 29:169-192.
"Framing Emotional Response." Kimberly Gross and Lisa D'Ambrosio. (2004). Political Psychology 25(1):1-29.
"International Trust and Public Opinion About World Affairs."Paul R. Brewer, Kimberly Gross, Sean Aday, and Lars Willnat. (2004). American Journal of Political Science48(1)93-109.
"The Scary World in Your Living Room and Your Neighborhood: Using Local Broadcast News, Neighborhood Crime Rates, and Personal Experience to Test Agenda Setting and Cultivation Hypotheses." Kimberly Gross and Sean Aday. (2003). Journal of Communication 3(3):411-426 .
Additional Publications
"How Mainstream Media Outlets Use Twitter." Jesse Holcomb, Kimberly Gross, and Amy Mitchell. (2011). Report from Project for Excellence in Journalism. 
Ph.D., Political Science, University of Michigan, 2001
B.A., Political Science, University of Wisconsin, 1990