Michael McGough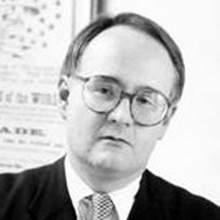 Michael McGough
Lecturer
---
Contact:
Office Phone:
(412) 526-9725
805 21st Street, NW
Washington DC 20052
Michael McGough, senior editorial writer in the Washington Bureau of the Los Angeles Times, has been writing editorials for The Times since April, 2006 and before that contributed a regular column on religion to the Times op-ed page. McGough spent 32 years at the Pittsburgh Post-Gazette, where he was editorial page editor from 1986 to 2003 and a Supreme Court correspondent and Washington columnist from 2003 to 2006.
McGough has won several statewide and local journalism awards, and was part of a team of Post-Gazette writers who received first place in the Pennsylvania Bar Association's Schnader Media Awards for a series on a state Supreme Court justice who was subsequently impeached and removed from office. McGough has taught at the University of Pittsburgh and its Honors College, American University, Allegheny College and The Haverford School.
He is a frequent contributor to the British magazine The Tablet and the online magazine Slate.com and also has written for The New York Times, The Washington Post, The New Republic, Commonweal, the American Spectator, New York Newsday and Religion in the News. An honors graduate of Allegheny College, he also attended the University of Kent at Canterbury in England and holds a Master of Studies in Law degree from Yale University, which he attended as a Ford Foundation fellow. In 2008 he was Templeton Foundation fellow in science and religion and the University of Cambridge in England. He is the author of "A Field Guide to the Culture Wars" (Praeger, 2008).
---
SMPA 2110, Introduction to News Writing and Reporting