By André Gonzales, PCM '20
When I chose to attend GW's School of Media and Public Affairs, I knew the experiences in store would shape the way I see and interact with the world around me.
During my first two years at SMPA, I had the opportunity to take classes with professors who pushed me to continuously improve my academics and professional pursuits.
So, when I saw an exclusive opportunity to work at the iHeartRadio and NBC News Radio headquarters in Phoenix, Arizona, I knew I had to apply. Little did I know that this application would lead to one of the most impactful, eye-opening summers of my life.
First, a bit of background on what the news team does every day. With teams of journalists and producers stationed all across the country in various bureaus, the Phoenix office serves as the central hub where all of the content is reviewed, edited and broadcast to hundreds of local radio stations.
For my news internship, I researched and wrote stories for local morning and afternoon newscasts in a variety of communities — special shout out to Lincoln, Nebraska, who I regularly wrote for.
After writing the newscasts, I would switch over to research on trending news — things like the small Yorkshire Terrier that led rescue teams to a missing three-year-old girl.
When there was major breaking news, I was often pulled in to help producers corroborate facts and write updates for the local radio stations to report. The most difficult story I helped report was the shooting at the Capital Gazette in Annapolis, Maryland.
The conversations we had in the newsroom and the overall feeling in the office is something that will stick with me for years to come. In total, I wrote over 500 stories over the course of the summer for a wide variety of media markets.
I also had the opportunity to further my experience and passion for politics and advocacy over the summer.
On Sunday mornings, I arrived at the office early to watch the weekly public affairs broadcasts, like "Meet the Press" with former GW student Chuck Todd, and summarize interviews in real-time for the national NBC News Radio channel.
The stories were then proofed by my producer, edited and usually sent out to be recorded by an anchor less than fifteen minutes after I finished writing.
If I'm being absolutely honest, hearing my own writing going live on a national news channel was beyond surreal.
---
Image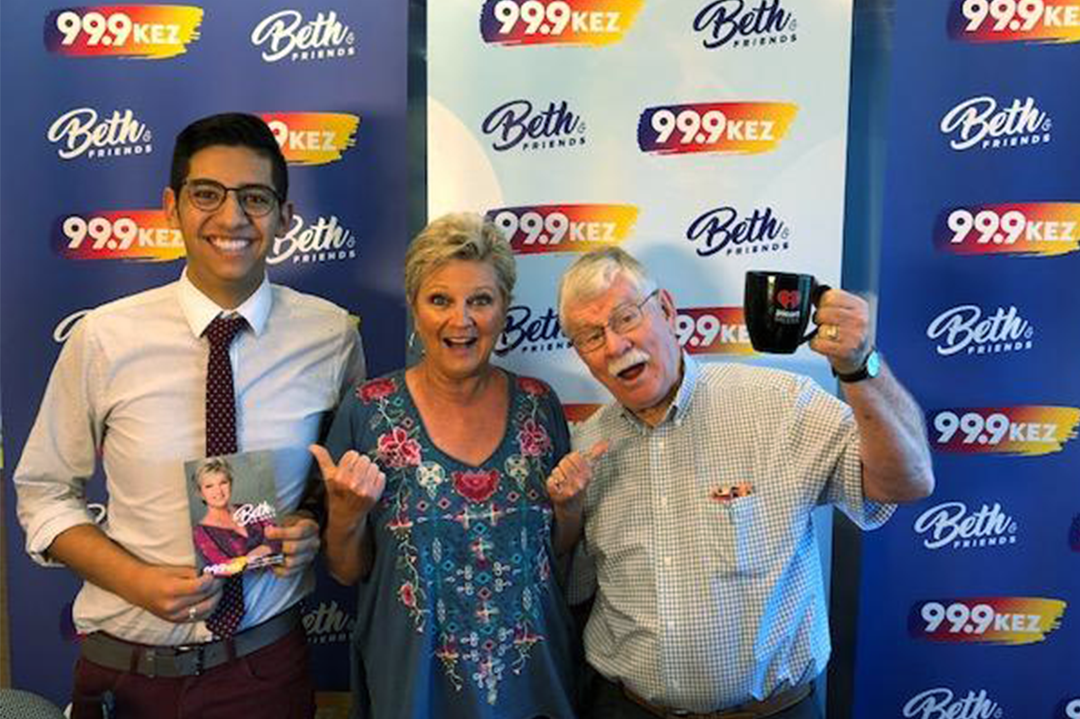 (L-R) André Gonzales poses with 99.9 KEZ (Arizona) host Beth McDonald and local radio legend Marty Manning. Photo courtesy André Gonzales.
---
Beyond my work with the news team, I also got a taste of the day-to-day work of iHeartRadio local radio stations. For a week, I hopped around departments and met with some of the brightest minds in radio.
I learned about the painstaking work that goes into creating the perfect morning commute lineup, how to provide all of the most important traffic information in under a minute and how local stations manage all of those free giveaways. I even got to spend a day meeting listeners and handing out free sodas in the community.
Sitting in on a wide variety of morning radio shows, I learned first-hand how they create quality content every weekday. One time, I even joined the action, participating in a weekly tradition called "Marty versus the Millennial" with local radio legend Marty Manning.
Simply put, this past summer was nothing short of incredible. The people I met, the stories I helped report and the impact the team's work had on local communities was inspiring.
The first day I walked into the office I thought that I was in way over my head, but I walked away with a greater appreciation for the work that journalists do every single day.
This experience gave me a renewed sense of purpose and drive to protect the role of the press in our national political dialogue.
I want to thank iHeartRadio president and SMPA alumni Darren Davis for creating this opportunity for students to gain broadcast journalism experience outside of the D.C. Beltway.
I also want to extend a special thanks to the teams at "Beth & Friends," "Matthew & Priscilla in the Mornings," and "The Mike Broomfield Show," who were all incredibly welcoming and taught me so much.
Lastly, many thanks to the incredible staff that helps facilitate the SMPA Career Access Network program who also made it possible for me to have these experiences.
My summer showed me the importance of going beyond the amazing #OnlyAtGW moments SMPA students benefit from in D.C. and exploring the nation that we report on.
---