"The Mamas": A Discussion on Black Women & Motherhood
Tue, 4 April, 2023
12:30pm - 1:30pm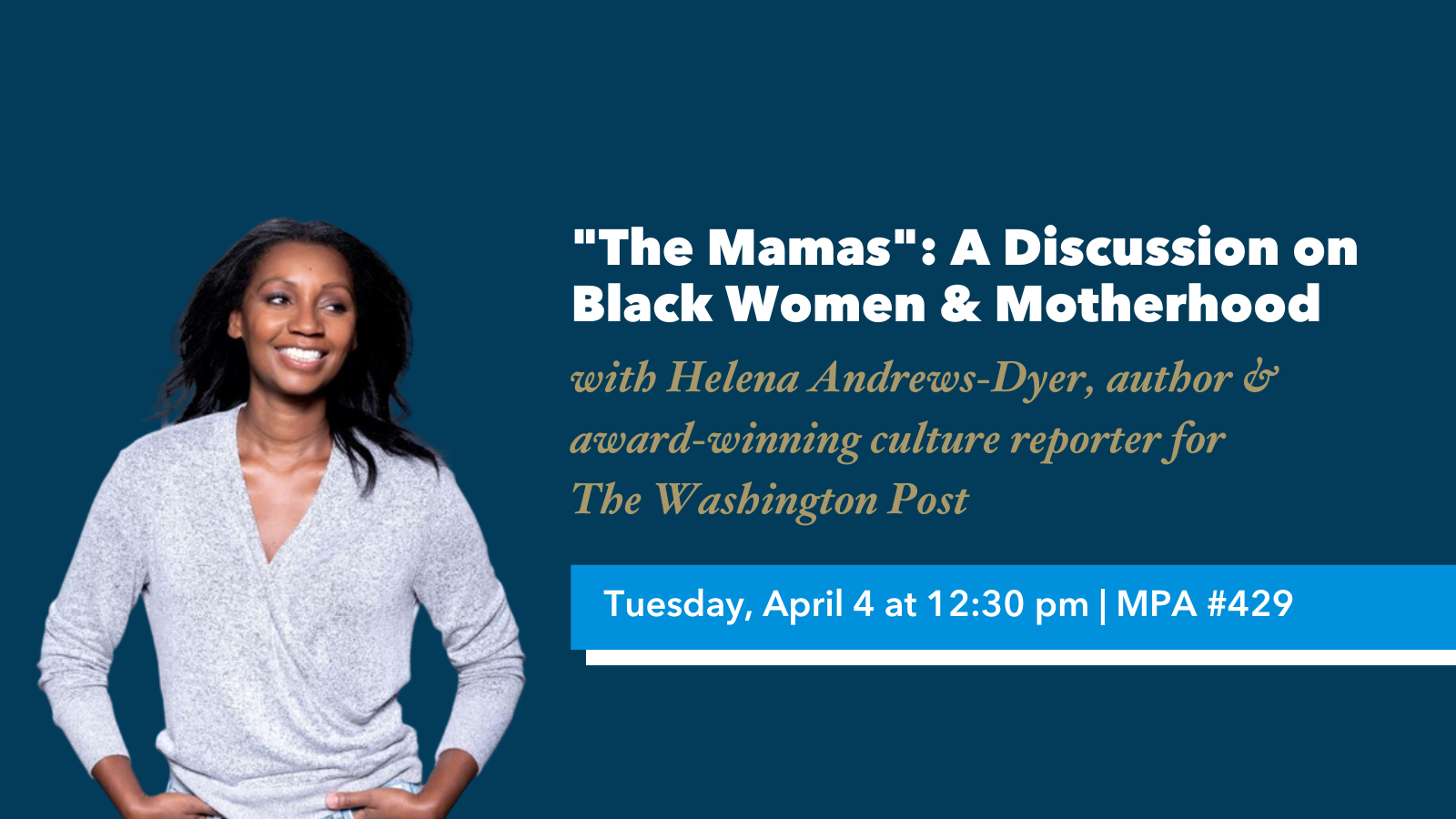 Join SMPA Professor Imani M. Cheers as she moderates a discussion with author Helena Andrews-Dyer on her book, 'The Mamas: What I Learned About Kids, Class and Race From Moms Not Like Me," and all things related to Black women and motherhood.
Date: Tuesday, April 4, 12:30pm
Location: MPA #429
Zoom link will be sent the morning of.
Helena Andrews-Dyer is an award-winning culture reporter for The Washington Post, covering the intersection of popular culture, race, politics and art in the nation's capital. She's written about the saga of scoring Beyonce concert tickets, Vice President Kamala Harris's deep connection to her Black sorority, and the portrayal of black fatherhood in the film "King Richard."  
In 2020, Helena was awarded two National Association of Black Journalists' Salute to Excellence Awards for her longform feature "This Isn't Another Horror Story About Black Motherhood."
Her third book, "The Mamas: What I Learned About Kids, Class and Race From Moms Not Like Me," was published by Crown in August 2022. Helena's second book, "Reclaiming Her Time: The Power of Maxine Waters" co-written with R. Eric Thomas, was published in 2020. Her first book, the memoir-in-essays "Bitch is the New Black," was published in 2010. "Grey's Anatomy" creator Shonda Rhimes optioned "Bitch is the New Black" as a feature film for Fox Searchlight Pictures.
Before joining The Post Helena was a contributing editor at xoJane, a digital women's magazine founded by Jane Pratt. Helena's work has appeared in Oprah Magazine, Marie Claire, Glamour, The New York Times, The Washington Post, The Washington Post Magazine, Essence, and OUT among other national publications. Helena has appeared on ABC's "Nightline," CBS's "Early Show," CNN, MSNBC, XM Radio, NPR and NY1.
She lives in Washington with a husband whose laugh can be heard for miles and two equally carefree daughters.