By Ashley Le, JMC '19
Over spring break, I had the opportunity of traveling to Paris on a short-term study abroad program under the guidance of Professor Lee Huebner (former Nixon speechwriter, former CEO and Publisher of the International Herald Tribune, former director of the School of Media and Public Affairs, and many more). Although our stay in Paris was short, we have rather gained the experiences and learned the lessons that would last a lifetime.
So as I readjust back to life at GW, I found myself reflecting on a few stories that I had the chance to hear, and they were powerful.
 
1. Refugees in France, in Europe, and around the world.
On our official first night of the program,  Jeff Schaefer, Chief European Video Editor for the Associated Press, and his wife, Vivienne Walt, presented the story of the "jungle" in Calais, long one of France's poorest cities. The Calais Jungle has served as a refugee and migrant encampment for thousands of individuals since 1999, but it was never recognized as an official refugee camp by the United Nations. During Jeff's presentation, confusion and frustration took over me. I saw footage of shelters lit up in flame, of children separated from their family, and of refugees succumbed to the violent forces of the local authorities. 
When hopelessness was just starting to crawl its way into me, I was reminded that changes are possible when you believe. After Jeff's presentation, Lamis Aljasem, a CECI Scholar from the American University of Paris, shared with us her journey of courage, determination, and faith. Lamis could have given in to the violence in Syria, but she instead chose to thrive, to be better, and to one day make a difference in the lives of her loved ones.
Jeff and Lamis both shared with me how the world is constantly changing, and empowered me to be a part of the movement that spreads hope.
 
2. Les Petits Plaisirs: The Little Pleasures
On my first few days, Paris surprised me with a sense of familiarity that brought me the feeling of being home. But while the city's architecture, traffic, and geography remind me of Ho Chi Minh City, I found myself fascinated by its lifestyle and cultural differences. In contrast to Americans' busy life of responsibilities both at work and in the home front, Parisians prioritize a balanced schedule of rest, relaxations and the little pleasures that make life worth living. 
During my 10 days in Paris, I was happier and rested than ever before. I enjoyed people-watching in a small café at a street intersection; my eyes lighted up as the sun started to set from the top of the Sacré-Cœur; my smile widened as I spent time in conversations and celebration of my friends' lives journey at a bistro restaurant, and my heart skipped a beat when I counted the joy of living that I've forgotten somewhere along the way.
Paris and its little pleasures were my healing ground.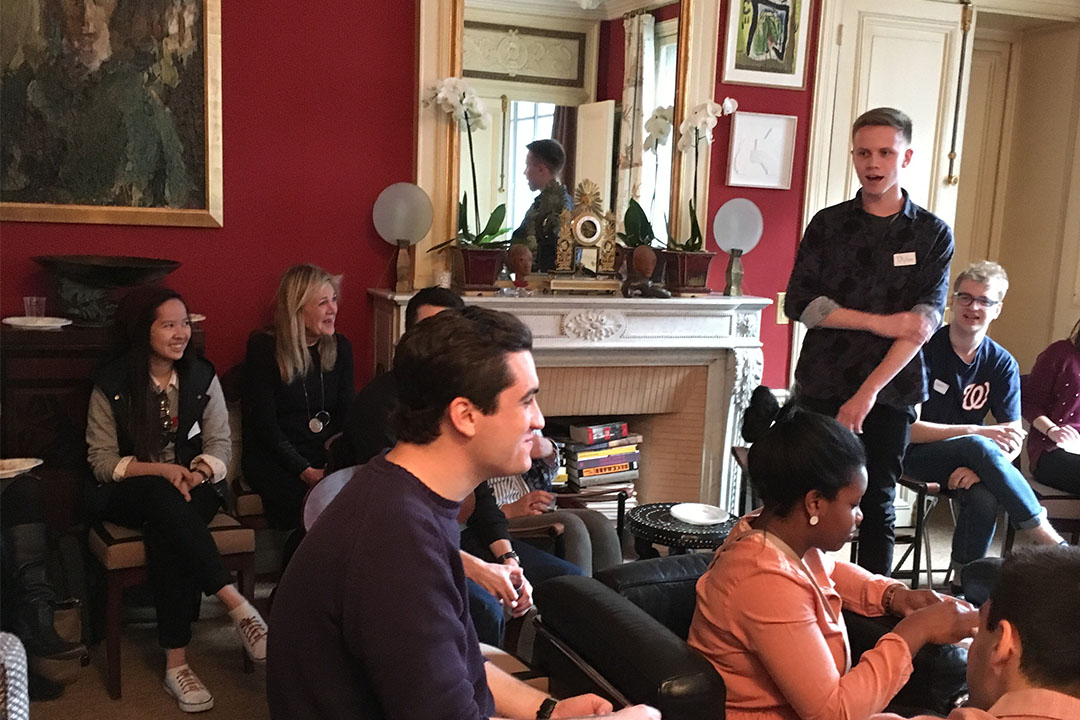 3. Conversations And Dialogues Matter
And perhaps now more than ever.
As journalism and the media enter into a critical and unique period, both in the United States and at the global level, the role of storytellers to create conversations and encourage dialogues also become just as important. In Paris, I heard stories from individuals who have faced death in the eye, from journalists who have given more than they received, and from the world-changers who have just taken the beginning steps in their journey to inspire and become the positive change.
Conversations are powerful, for it can start anywhere, and it can spread everywhere. Journalists create conversations to spread awareness and to inform the mass on public affairs. Storytellers, both visual and verbal, create conversations to shine a light on issues that are often neglected. And lastly, we as individuals engage in conversations to encourage and celebrate one another, as well as to discover how much further we can go.
I extended my stay in Paris for a few extra days, where I truly found rest, peace, and an assurance that as storytellers, we have the power to make an impact in the world. As I come back to Washington D.C., Foggy Bottom, and GW, I am extremely inspired and incredibly thankful. To the storytellers, world changers, and inspirations whom I've had the blessing to meet in the past two weeks thank you for changing my world!
, full_html